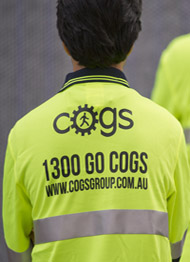 Our investment in our people is tantamount to our success. COGS is committed to
recruiting, developing, motivating and retaining a high calibre workforce.
We do this by managing:
+ The selection and career progression process of employees;
+ The training and job skills development process;
+ The development of positive working relationships; and
+ The health and safety procedures in the work environment.

We recruit for a wide range of positions, including ground staff, administrative support staff and experienced managers. If you have the right attitude and experience, we want to hear from you.
Want to join the team? Apply today.

Please complete the adjacent fields and attach a copy of your CV in Microsoft Word or Adobe PDF format only (2MB file size).